As someone who is well aware of the sociological studies that show that success in an individual's life depends on the time his or her parents dedicated to him/her during childhood, and who has made the idea that the members of a family can create an entire world of beauty 'at home' a reality, and who has adopted the new school of education that argues for the necessity of promoting and preserving creativity rather than 'dry' knowledge, as of January 2014 I have written a series of 28 books for children and adolescents. Their main focus is the one outlined above and their key features are unconventionality, inventiveness, twists and humour.  Most have already been published in digital format and are available from amazon, ibooks, myebooks, and cosmotebooks.
The stars of most of these books for children and adolescents are the members of a 4-strong family.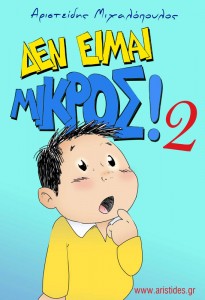 The youngest son is aged around 6 and even before he learned to read he found it necessary to have his memoirs written down in a series of two books so far called "I'm not little!". Using language that is grammatically unsound, and presenting the subject matter in a direct manner, without paragraphs, full stops or capital letters, and written just as if he was speaking to his peers, our hero wants to share his fears, anxieties, desires, dream and expectations (… what are they anyhow?) with his readers.

The older son, aged around 10, has also written a book featuring 8 stories, entitled "Me, The Big Brother". He talks about their dad. Among other things, dad is an amateur actor starring simultaneously in four plays he has reworked specifically for children (which are works by Shakespeare, Becket, Ibsen and Salinger). His stories are about how he and his father wrote a detective novel about an ancient statue of a woman being stolen from the Acropolis Museum (recently published as a stand-alone book entitled "Who stole 674?",  about how tyrannically difficult it is to find an original story to tell your brother every day before he decides to drop off to sleep, about one of his dreams featuring art works and four other tales about what he gets up to with his little brother and their dad.
The two children also star in a series of 2 books (at present) entitled "Go to sleep already!" that include stories that the older brother makes up for his younger brother. Among other things, they have to do with well-known heroes from children's literature and films such as Pippi Longstocking, the Little Prince and Aladdin, artists that have impressed him such as Van Gogh, and heroes from plays he has been to see such as Shakespeare's 'The Tempest'. He incites his younger brother to get involved in stories featuring his favourite Lego and Playmobil toys, scares him with tales of apprentice wizards who mess things up and in the story entitled 'Two quarrelling kings' uses chess pawns as the heroes of the tale (the younger brother is a huge fan of chess and can beat anyone in the family hands down).

The two boys and their dad star in four series of books.
1) The first series is entitled 'Does anyone have any idea?' that so far consists of three books.
In the 11 stories in "The Unmatchables" the heroes use their deadliest weapons (creativity, imagination and humour) to battle Boredom who can shape-shift into a thousand and one different forms. They talk about how to fit an entire treasury into a freezer, what you can do with the things other people throw in the rubbish, how to spend an entire Sunday in a tent in the garden, what birds give their feathers to make down for the pillows we sleep on and how to wash your car using dragon tongues…
In "The Uncovered" the heroes exchange slips of paper that bind them to do what is written on the paper. For example one of dad's slips of paper that the youngest son has says,  "I am obliged to play any silly game with the holder of this slip that he asks me to play (…silly in my opinion, but my opinion isn't of any concern to him of course) whenever I am asked, and I stress, for as long as I am asked to play". The older brother has another slip from this dad that reads: "I undertake to leave my son alone for 3 consecutive days, without doing his head in about those crazy ideas that I have about creative activities for kids, such as…". Dad also has slips like this in his possession, like the one the two boys have signed that reads: "Whoever has this slip in his possession has permission to leave home to go to the theatre or cinema or an art exhibition and then dinner with friends for blah blah blah relating to art or… anything else".
In "Can you keep a secret?" the kids write down their secrets (like,  "I wasn't in fact a robot and got burned when I grabbed the candle flame", "I told my sister than I love her less than our dog", "I put talcum powder in the cat's milk to punish it for scratching me") and they send them to their dad anonymously, free of charge, on specially printed cards. However, dad is incurably mischievous and arranges to play a trick on his kids. They find out about it though and so they interrogate him harshly and subject him to awful torture…  However, it is later proven that they too had been up to mischief; much worse than anything he had done. In the final chapter dad arranges for the kids not to go to school one day, so that they can go to another school where one of his friends teaches. There, their dad intends to talk about the need for kids to find someone they can confide their secrets in… as a practical exercise he suggests that the children anonymously write down a secret on a piece of paper they would never dare tell anyone and give the pieces of paper to him…
2) The second series of books is called 'The hidden beauty of things' and has to do with discovering original ideas, and encouraging creativity in kids and adolescents. So far this series consists of 4 books.
In "The Knights of the Backwards Label" the heroes discover an entire world of beauty on the reverse side of clothes labels and each of them creates his very own collection comprised of  animals, dragons and other scary things in the case of the younger brother, and windows with a view of the beach, skyscrapers, clouds, stars, hot air balloons, smiles and flowers in the case of the older brother, and stairwells, trees, ghosts of Hamlet's father, a fairy's washing hanging out to dry, nightmares and the pages of books written in ancient, dead languages, in the case of the father.
In chapter 5 of the book dad, with the unwitting support of a gallery-owning friend, dad attempts to present a modern art story using the upside labels from their collections. These are supposed to be artworks by his grandfather who had emigrated from Germany to America. As if that wasn't enough for their mischievous dad, he arranges a talk at their school to speak to other children about the hidden beauty of things. Of course, that's after he tells them a whole pack of lies and puts them through all sorts of tortures to find what all the beautiful things he intends to screen on the classroom wall, before he reveals the truth to them. This book (which I consider to be one of my more commercial works) has already been published in English.
"Colour catchers" explores the idea of beauty hidden away in those little sheets of paper one puts in the washing machine to stop the dyes running from dark clothes into lighter coloured clothes and making a pig's ear out of them…  However the boys are not satisfied with the colour catchers they manage to collect at home and lend unused colour catchers to various acquaintances of theirs in order to get them back and to make up incredible stories about what those multi-coloured, waterproof, elongated pieces of paper actually are. They even go to a launderette and hand out colour catchers to the customers. Using the very best colour catchers in their collection they also organise an exhibition at a gallery belonging to one of dad's friends.  Collectors, in fact, pay a fortune for the works at the auction held at the closing of the exhibition. The money raised is donated to charity.
In "Can I borrow your dirty socks?" the search for hidden beauty continues using the designs revealed on the reverse of children's socks. The younger brother has a large collection of sock-designs featuring sharks, tigers, kittens, dragons, baby hippos, spidermen, Pokémon, and a mouse eating ice cream. The older brother collects images from inside-out socks featuring single and double kites, paintings of flowers, aliens and half boats. Dad then reveals the sock-images from his own collection that he has printed on canvas to a gallery-owning friend. He tells him that they are the works of a very strange, but important artist who has assigned him the task of organising an exhibition. The artist prefers to remain anonymous though. However, dad also has another friend, a professor at the school of fine arts. He arranges for dad to talk to first year students (in the presence of his kids) about the hidden beauty of things while showing slides of the socks as abstract works of art by other famous painters.
In "Don't throw the box away!" it is the printers who are now hiding beauty away so that the kids can't find it. However, on the unseen hidden sides of packaging, the heroes of the book soon discover the calibration marks spies use when operating in an authoritarian country (in the story dad tells the younger son about the origin of these marks) or a group of weird and strange artists who have come up with this way of communicating in secret with members of the group (in the story for the older son), until the kids discover the lies their mischievous dad has been spinning and start to enrich their own personal collections, by searching for the calibration marks on every single type of packaging that comes into their possession.
3) The third series is entitled 'Combating Greed' and consists of 5 books.
In "An ugly, elderly, toothless witch called Greed", dad takes up the challenge his old Professor of Sociology in Paris set for him of talking to his students about his own –somewhat strange it has to be said- research into Greed that was carried out along with the professor when dad was studying with him. So it's the perfect chance for the 3 of them to spend 2 hours at the airport without spending a single penny as agreed. It's also a chance for dad (for the 2 hours that the 2 heroes are strapped in with safety belts (thanks to his own stroke of mischief) to talk to them about globalisation and advertising, two of Greed's best friends, about 'the built-in obsolescence' of products, about the first, second and third world, about the pointless wastage of food in the Western world and about two or three other small things (perhaps 20 is closer to the mark …) before they arrive in the City of Light and elongated éclairs, where they continue their mischievous adventures.
The second book with the working title "Want to see one of your ideas become reality?" refers to the very timely form of financing called crowdfunding. It is presented as a way for the heroes to combat Greed in the sense that the more the kids concern themselves with creative ideas (and with public affairs) the less likely they are to become greedy when it comes to consuming all manner of products and services. Various proposals were for crowdfunding and in most cases the amount needed was collected. Thanks to the help from their fellow citizens the heroes of the book are called upon to publish a map with the exact location of all the fruit-bearing trees in the municipality, to enrich the local library with audio books for the blind and for anyone bored to read, and to collect their neighbours' art works so that they can exhibit them. However, one idea that related to cataloguing all graffiti within the boundaries of the municipality did not attract sufficient support from the public while two others (that are the subject of the two books presented below) managed to raise much more than the amount needed to implement them.
One of those ideas is further developed in the third book in the series entitled "We're listening… what can you do best?" where the kids are introduced to the famous TED conferences.  The kids at the local school submit their written proposals to the Panel comprised of the heroes and their dad, about what they know how to do best and what they'd like to present to the public at a special one-day event. After tough negotiations the Panel approves proposals from kids such as 'How come others are always right', 'What to do to get mum to come home', 'How to appear older at parties', 'Where to hide your stuff', 'How to hate holidays', 'It's wrong for adults to steal ideas from kids books' and 'My favourite painter with the hoodie' (which talks about the graffiti artist Banksy).
The second idea that becomes reality in the fourth book in the series entitled "Robin Ice Cream Hood" relates to the wasteful purchase of food that results in millions of tons of food ending up the rubbish dumps of cities in the Western world. This fact drives the heroes' father to get together with a  few friends and set up a volunteer group to collect food from those who have extra food lying around such as restaurants, hotels, bakeries and catering companies, and to redirect it to those in need, such as old people's homes, kindergartens, associations of poor parents and homeless organisations. The central chapter of the book describes the epic all-night adventure of our three heroes as they leave a wedding they had been invited to with the group's truck filled with food that was left over, and they head off to meet up with another member of the group who has collected food from a luxury hotel. The idea is to sort out all the food suitable for kindergartens from everything they have collected that one group will visit, and for a hostel for the poor that the others will visit.
The fifth book in the series is entitled "The world's sweetest unemployed dad". It only features the older brother and dad who has lost his job. After a short adjustment period, with the help of his enthusiastic son who is well pleased that he will have dad around more, he takes the decision to transform his misfortune into the opportunity he was always looking for to do what he always wanted to do, to become a chef! Until that happens he and his son do some jobs here and there to top up their pittance of an unemployment benefit, that allows them to get to know each other better and to get to know every else who has lived around them but had been unknown to them for so long. They go dog-walking, organise a home car washing crew, look after the plants and flowers of anyone going away on holidays and look after the municipality's clocks making sure that the time is always right. This is important because they managed to persuade the shop owners who advertised on the clock towers that the wrong time on the clock would be bad for their business.
4) The fourth series of books with the same heroes uses theatres as a vehicle for expression and creativity. Both books in the series 'Like Theatre' use the same ploy: the kid's mother has to suddenly go out and their amateur actor dad who has nowhere to leave the kids takes them along with him to the theatre where he is starring. There they watch the play from the wings, and talk and discuss the performance while the play is going on.
In "I will call him Godot", which is a device for introducing young readers to the works of Samuel Beckett, the younger son cannot understand why his did has to go to the theatre every evening and play with his friends and why he cannot stay at home and play with him. The older son tries to explain to him that being an actor is a job just like all the other ones. All together they are waiting for Mr. Godot, who is taking a desperately long time to arrive so that he can play as well. In part two it's as if they are watching the same work from the start again. And suddenly when no one is expecting it, the play is over. And what about Mr. Godot? He sent a child to tell the actors that he'll be there tomorrow. Just as well then that dad invited all the actors and the director to a pizza place to celebrate the birth of the kids' cousin (which is why the mother had to suddenly go out). At the end everyone is surprised that Mr. Godot sent a cake apologising that the wasn't able to come…

In "Holden", which is an attempt to dramatise J.D. Salinger's "Catcher in the Rye" the dad plays a 17-year old who is in hospital after a nervous breakdown caused by him being expelled from school. The kids watch and comment on what is going on. Sometimes they are sympathetic towards and feel for the hero of the play but other times his behaviour outrages them. In the break, the two kids meet one of their dad's friends, the show's director in the bar of the theatre, and he attempts to explain some hidden messages in the play and gives them some information about the author of this innovative book. As they munch their crisps and down their orange juice, the kid's father with the aid of the director and the collusion of the older son, play a trick on the younger son who innocently starts wondering about the theatrical experience and about the actors. After the show is over, the entire cast meet around a restaurant table and all is revealed.
My attempt to bring young readers into contact with the masterpieces of world theatre from the world of grown-ups and with the outstanding creators of those works continues in another series entitled 'Theatre, as you like it' which so far includes 4 books.
In "A tempest like no other!" I have adapted Shakespeare's "The Tempest" for kids aged over 8, and have illustrated it with photographs featuring figures and sets from the well-known kid's toys Playmobil. I'm waiting for approval from the company to allow the book to be published. In adapting the play, I want to show children another way of borrowing from works that promotes creativity.
"Troilus and Cressida Retold" is an adaptation of a lesser known Shakespearian play. Here the stars are not enemies in the Trojan War but adolescent football players from two teams in nearby towns staying in a coastal hotel along with their parents one day before the final. In addition to teenage love and infidelity, the book also raises issues such as arrogance, friendship, trust, companionship and making sacrifices for others.
In "Grandpa Falstaff stories" I have made Shakespeare's most likeable character a grandfather and I have him recount 8 stories as if he were talking to a child. When young William grows up, those stories will become some of his best known theatrical plays.
I've done something similar with Moliere in "Moliere, the Imaginary Child". These are tales that Moliere heard as a child that he will later make into plays. The tales were heard from the servant Toinette, the servant Mascarillo and his grandfather Louis, who used to take him to the outdoor festivals which gave birth to French theatre at the start of the 17th century in Paris.

To date, I've written 3 books for teenagers.
For the purposes of the book "The Sounio Party" I relied primarily on real biographical facts but have turned the most important writers in world literature from the start of the 20th century into teenagers, and have brought them to Sounio along with their families in 1932 for various different reasons (although one of those reasons is real). Each of them tells the others about the book they will write when they are older… Early in the evening of the fourth day of getting to know each other, Virginia Woolf is the first to start… She tells them the story of a child who asked his parents to take him to a lighthouse (To the Lighthouse). After hearing the story, everyone comments about bits or images they like most. The same happens with all the other tales. Next comes Samuel Beckett with the story of two badly dressed men who are waiting for one Mr. Godot who never actually comes (Waiting for Godot), Emily Dickinson who reads them 37 of her poems, the loquacious James Joyce who narrates one day from the life of a Mr. Bloom in Dublin (the Odyssey), Marcel Proust who tells a love story of passion and jealousy of a young man called Swann (Swann's Way), Franz Kafka who tells the tale of a man who is accused (probably wrongly) by the authorities of his country and put on trial (The Trial), Constantine Cavafy who reads them his poems which usually talk about old, forgotten times and lastly Jerome Salinger whose story about a 17-year old boy thrown out of school and the adventures in his mind on his two-day tour around New York (Catcher in the Rye).
The second book entitled "Moliere in an hour" introduces teenagers to France's most famous playwright in an innovative way, in the same way that Shakespeare's works have been made known to the general public by presenting them all in an hour ("Shakespeare abridged"). Four actors (two girls and two boys) don't rest for a second as they play excerpts from Moliere's most famous plays, such as Don Juan, Tartuffe and the Imaginary Invalid, and his comedies, such as The Miser, The Bourgeois Gentleman, The Affected Young Ladies, and The Learned Ladies, his more playful works such as George Dandin, Le Depit Amoreux, and his sweeter works such as School for Wives, and his work the Princess of Elid that is known to very few people, and his masterpieces Amphitryon and the Misanthrope.
"Nietzsche for children and those who should become children again to correct a few things…" aims to give kids aged 10 to 12 advice that is supposed to be implicit in the advice given by teachers and parents, but in an unconventional and humoristic way.
Through short comprehensible texts full of examples and encouragements for how children can confirm the goals they choose in real life, especially within the family, Nietzsche becomes a teacher showing them, among other things, that: no one can always be happy, that the greatest hidden treasure that they can discover lies inside their own heads, that it is not possible for someone to be good at everything, that they have to be happy about their failures because it is the first step on the path to success, that nothing belongs totally to us except our dreams, and that life is better when one stops comparing one's own life with that of others… Each of these ideas have been taken from the sayings of Nietzsche and developed into individual short chapters of between one and two thousand words.

I have a play for adults entitled "When Sir John Falstaff met Señora Celestina". In it the star of the play by Fernando De Rojas (who as it turns out was not actually murdered by her two assistants) reaches Shakespeare's home town (Stratford) having decided to live out the rest of her life close to Sir John (who happens to have staged his own death deeply disappointed with people's ingratitude). Sir John becomes close to his grandson again by telling him tales (like he does in my book "Grandpa Falstaff Tales"). After the first tumultuous days of their encounter, the devious Celestina and Sir John (brave only in mind) appear to be having a lot of fun, and Young William is present in quite a few scenes. Lastly, perhaps one does have to stage one's own death to be able to live freely, a concept discussed at the start of the introduction to the book.
Most of the books are adorned with original drawings by the artist Akis Oulkeroglou and with photorealist compositions at the start of each chapter made using these drawings.
Since the books contain no explicit historical references, religious preferences or concepts referring to national characteristics or local customs, the tales of the heroes could actually take place in any country in the Western World.
Professional editors have edited the books that have been published so far.
The number of words and images in each book is stated in the bottom section of the description that can be accessed by clicking on the links provided.